Is the Vuse Vype ePod Any Good For Me?
The Vuse Vype is an ideal device for you if you do not like to go through the trouble of refilling ejuice or maintaining coils. Once the device itself is charged, you just need to slide the prefilled pod into the pod bay and you are good to go. It is a closed pod system that is specially designed for the vaping buff and is available on many vape stores Canada has to offer.
Vuse Vype – Design and Build 
The Vuse Vype looks like a device that was designed to blend into the 21st generation. It sports a metal chassis with a fine graphite finish and brings together curve lines at both the top and bottom to enhance its aesthetics and also make it feel comfortable in your hand. If you want to show off your device with your friends, you can get it in either Matte Black, Silver, Graphite, or Gold.
Overall, the device measures 105mm x 19mm x 10mm and weighs 23g so it is not a hassle to carry around with you, even on trips. It comes equipped with a 350mAh inbuilt battery that complements the overall size of the device and charges using a proprietary magnetic charger. On a full battery, you can go through ¾ of your ejuice. 
It is a draw-activated device so once the pods are loaded into the pod bay and held securely by the magnets, you can just place the device in your mouth and draw. There is an LED battery level indicator on the front of the device that blinks 10 times when your battery level is low.
The Vuse Vype would make a perfect on-the-go device and Hazetown Vapes has got your back with not just the Vuse Vype, but a collection of complete starter kits and pod systems that would be perfect for you whether you are a transitioning smoker or an experienced vaper. 
Vuse Vape Pods
The pods come equipped with 1.9ml of salt nicotine-infused ejuice formula. They are sold in packs containing two pods and you get to choose from varying nicotine concentrations so you vape just how you like it. Each pod delivers about 275 puffs which are equivalent to a pack of cigarettes and should last you even up to a week or more depending on your usage. Once the ejuice in the pod is exhausted, you simply dispose of the unit and pick up another. 
In terms of nicotine, the cartridges come in 1.6% (18mg), 3% (34mg), and 5% (57mg) nicotine concentrations. These high levels of nicotine still deliver smooth but strong throat hits that would satisfy your nicotine cravings. This is only possible because of the salt nicotine, and these are not the only salt nicotine e juices you can find on the market. If you are in for refillable salt nicotine experiences, Hazetown Vapes has a collection of some of the tastiest salt nicotine e juices that would go well in that your vaporizer. 
Availability 
Hazetown Vapes sells the Vuse Vype ePod for only $8 instead of the original $12 price, allowing you to save more so you can afford even more flavored pods. Since there is nothing better to go with this device than its Vuse Vype cartridges, you would have to buy some to complete the Vuse feel. Not to worry, on Hazetown Vapes, you have a rich selection of assorted flavored cartridges each sold for $11 per pack. You get to choose from flavors like Blueberry, Watermelon, Strawberry, Mango, Berry, Polar Mint, Lemon Berry, Vanilla, Passion Fruit, Blood Orange, Smooth Mint, Cucumber, Lychee, Cool Peppermint, and others.
Performance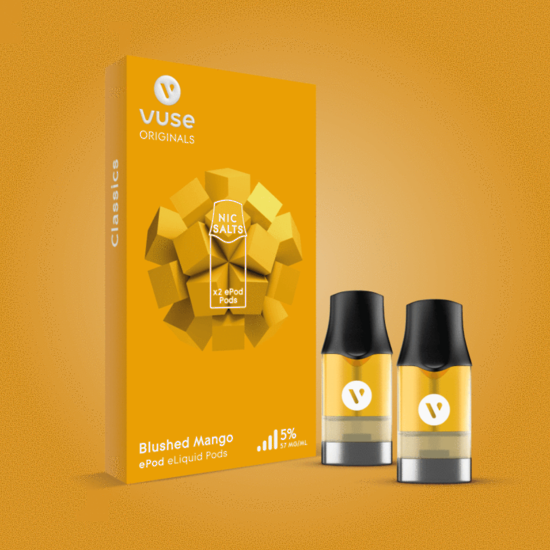 At the end of the day, what makes a good vaping device is how it performs, and the Vuse Vype does not seem to let anyone down on that. It delivers a tight and smooth drag that is quite similar to that of an actual cigarette so you feel right at home. The device is sleek and portable and merges high-quality salt nicotine with high power to deliver exceptional vaping experiences every time you take a drag. 
Bottom Line:
Yes, whether you are a novice vaper or an experienced connoisseur, the Vuse Vape ePod would make a perfect discreet vaping device for you, especially if you are a vaper with a knack for strong nicotine hits. Just make sure to get yourself a couple of pods when you buy the Vuse Vape on hazetownvapes.com.
You can either buy using their online site or find their store close to you on 166 Spadina Ave, Toronto, ON, M5T 2C2, Canada or on 325 Weston Rd Unit 2A, Toronto, ON M6N 4Z9 Canada.